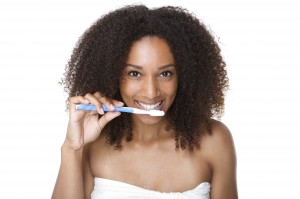 It is important to maintain good oral hygiene which not only helps keep your smile looking its best, but can also help prevent gum disease and reduce your chances of needing additional dental work in the future.
The best tip we can impart is to maintain regular appointments with your dentist. Here at Gentle Dental Care Liverpool, we offer general dental health care and seeing a dentist regularly means that any problems won't be able to do lasting damage before they're caught and managed.
Invest in an electric toothbrush. Using an electric toothbrush over a period of time can prevent gum inflammation and periodontal disease, and a good model is well worth investing in.
Make sure you're flossing and using mouthwash. They will help keep your mouth as clean as possible and are especially useful when used just before bedtime when less saliva is produced to clean teeth.
Try to avoid drinks that can stain your teeth, such as red wine and coffee. Eating certain foods have been proven to improve oral health when combined with regular dental visits and cleaning; mushrooms, broccoli and wasabi are all worth a try.
To make an appointment for a dental check up, call us on 0151 722 3000 or fill in our contact form online and we'll get back to you.