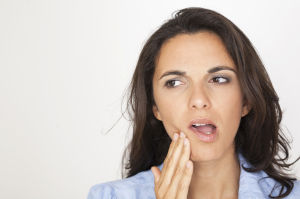 Having dental sensitivity can be a big problem, especially when it comes to the summer months and an ice cold drink begins to look extra appealing! With over half of the population suffering from sensitive teeth, there are a huge range of options available to bring you a bit of relief.
It may help to firstly identify what is the cause of your sensitive teeth- and the causes are vast. From easily controllable aspects such as brushing too hard, regular consumption of acidic food and plaque build up, to more pressing matters like gum disease, gum recession or cracked teeth.
Luckily, there are simple steps you can take to reduce your dental sensitivity and allow you to enjoy food and drinks without the associated tooth pain.
1. Change the way you brush. Invest in a soft bristled toothbrush which will reduce tooth abrasion and cause less irritation on your gums. Brushing for the full two minutes will mean you're getting the best clean and protecting the tooth's enamel.
2. Limit your intake of acidic food and drinks. Too much red wine, fizzy drinks and oranges can put your tooth enamel under huge strain- brushing 20 minutes after consuming such foods can help to protect your teeth.
3. Don't grind your teeth. If you notice that you do this when you're asleep, invest in a mouth guard to help ease the problem.
4. Use a special toothpaste designed for sensitive teeth. With regular use, you should begin to feel a big difference. Rubbing a small amount directly onto the affected tooth before you go to bed might also help to treat the issue. Pick a fluoridated toothpaste and mouthwash to get the most out of your oral care.
5. See your dentist regularly. The best way to keep track of your oral health is to get a regular check up so any existing problems can be address quickly in a manner that's best for you.
Make your appointment with Gentle Dental Care Liverpool today to ensure your smile is at its best.
Call us on 0151 722 3000 for more information and to get great advice from one of our brilliant team members.