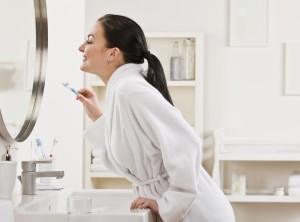 A study by the British Dental Health Foundation has revealed that seven million Britons don't brush their teeth regularly. One in seven people claim to leave up to two days before picking up a toothbrush, whilst 21% of people say they forget to floss. These worrying statistics give us a startling insight into standards of oral hygiene of some, with many clearly unaware of the importance of brushing twice a day, flossing and regularly using a mouthwash.
Chief Executive of the British Dental Health Foundation, Dr Nigel Carter OBE, said, "It is troubling to learn that people still have a poor attitude when it comes to their oral health. Anyone who regularly skips brushing their teeth morning or night is storing up oral health problems for the future such as tooth decay and gum disease – the biggest cause of tooth loss."
We recommend that you brush your teeth twice a day, for two minutes at a time. Using a toothbrush cleans just 60% of the tooth, so flossing is a very important part to make sure you're including in your dental routine. Cutting down on sugary food and drinks and visiting your dentist regularly can contribute to having a sparkling smile.
Contact us to arrange a check-up today on 0151 722 3000 or fill in our online form and we will get back to you as soon as possible.