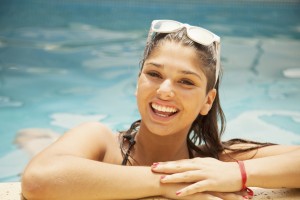 The last few weeks have proved that summer is finally here, with Liverpool enjoying lovely weather the last few weeks. We've been soaking up the rays whenever and wherever there's been the opportunity and are loving the chance to relax outdoors on the patio or in the park with family. With summer comes the extra busy social calendar and garden parties with friends, and we know that being self conscious about your smile can really ruin your enjoyment of the day.
Luckily at GDC Liverpool, we understand how you might be feeling and can help solve your summer worries, putting that smile back on your face for good.
If you're self conscious about your teeth being a little discoloured (and being slightly more obvious against your tanned skin!) we've got a great procedure available to transform your smile.
The treatment we offer here at Gentle Dental Care is pain free and so simple, you'll wonder why you didn't take us up on it months ago. We provide 'take home' teeth whitening trays which allow you to change your smile, all in the comfort of your own home. We produce impressions of your teeth to create the moulds, meaning you'll have the perfect fit for your smile. It's completely safe to do at home and relatively quick too!
With fabulous whiter teeth, you certainly won't worry about enjoying yourself with friends this summer season so call us today to chat with our great dental team or to make us an appointment on 0151 722 3000.