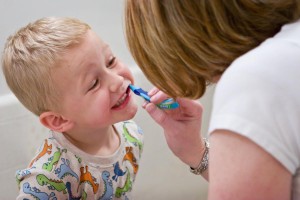 Now the summer holidays are over and the new school year has begun, it's the perfect time to get your little ones into a brilliant morning routine. Amidst all of the chaos in the morning, teeth brushing can fall to the wayside but it's important not to forget to brush before school to ensure both gums and teeth remain healthy.
Statistics have shown that a shocking 31% of children starting school have tooth decay and a third of children aged 12 have noticeable dental decay. It's important to get your children into a routine where they are brushing their teeth twice a day, so teach your child great oral hygiene as early as possible and it will soon become a habit.
Make brushing teeth fun by allowing children to choose their own toothbrush. Just make sure it is a small-medium sized toothbrush and that it has soft-medium bristles. Regularly changing your child's toothbrush once the bristles start to wear, or every three months is important too. Stay with your child when they're brushing their teeth to ensure they are doing it for two minutes, twice a day.
You can help this great oral care regime continue throughout the school day by packing a great nutritious lunch with healthy snacks and treats. Avoid fruit juices or fizzy drinks as these erode tooth enamel.
Introducing your child to the dentist early is also a brilliant idea to get them used to the regular trip so make it fun and begin a lifelong healthy relationship!