A mouthwash can be a valuable addition to your oral hygiene routine alongside brushing and flossing but it's important to find one that's right for you and your oral health. To be most effective, mouthwashes need to be used for the minimum of 30 second and to be used after regular two minute brushing and flossing.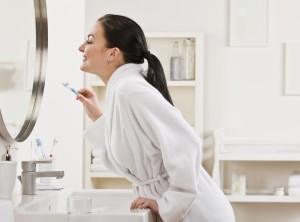 Benefits of mouthwash include:
-Quick and easy to use alongside your usual dental routine.
-Reaching places in your mouth which may be difficult to get at with conventional brushing.
-Many mouthwashes contain fluoride which can help prevent against tooth decay.
-Can also contain antiseptic ingredients to fight gum disease.
-If you suffer from bad breath, mouthwash will temporarily mask the problem.
Although mouthwashes can help with your oral routine, it is important to remember there can be some drawbacks. Some mouthwashes can cause discolouration of teeth after long term use and could irritate your gums if used over long periods.
At your next dental check up, ask your dentist which mouthwash would be best for you and how to use it most effectively. To make an appointment, call us on 0151 722 3000 or contact us via our online form.