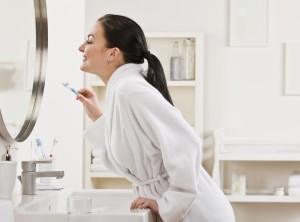 Researchers have discovered that females who have a fear of the dentist were six times more likely to be disgusted when presented with pictures of dental treatment scenes, than women who were ok when visiting the dentist.
Men and women were found to be equal when asked about their feelings towards dental care and visiting their surgery, but women were more repulsed on a whole.
The data available from the Adult Dental Health Survey proved that almost half of all adults were moderately to extremely afraid of visiting their dentist.  At GDC Liverpool, we want our patients to feel as relaxed and comfortable as possible. Our highly trained dental team are experts in patient care and will happily answer any questions or concerns you have regarding your visit to the dentist.
If even the thought of visiting the dentist is too much for you, we can offer patients IV sedation, which is just a small needle in you arm which will allow you to feel completely relaxed and calm throughout your treatment. The best thing is you won't remember your treatment when you come around!
If you'd like to hear more about the IV sedation we have to offer, please contact us via our simple online form, or call us on 0151 722 3000.