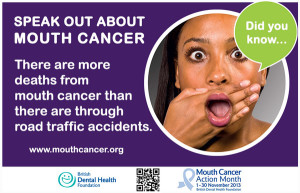 Did you know that half of people would leave a non-healing mouth ulcer longer than recommended, potentially leaving mouth cancer symptoms undetected? It is estimated that over the next decade, 60,000 people in the UK will be diagnosed with mouth cancer and if its not detected early enough, around half of these people will die.
It's important that you know and can recognise the signs and symptoms of mouth cancer. These include:
-red and white patches in the mouth
-ulcers which haven't cleared up within 3 weeks
-lumps or swellings in the mouth
Oral cancer can be caused from a variety of things including smoking, excessive alcohol consumption, poor diet and the HPV virus. Worryingly, mouth cancer kills more people than cervical and testicular cancer combined.
Recent research indicates that 37% of people would only seek medical advice after 1-2 months of having a mouth ulcer, with a small percentage saying they would leave it longer than 3 months. It is reassuring to know that 71% of those asked would seek medical advice if they had an unusual lump or swelling, or if they noticed red and white patches in the mouth.
Chief Executive of the British Dental Health Foundation, Dr Carter OBE said: "It is of great concern that only half of people know how long they should wait before seeking medical advice over a mouth ulcer.
"Early detection is absolutely crucial in transforming survival rates, and those leaving a mouth ulcer longer than three weeks are potentially risking a late diagnosis, something that reduces five year survival rates to as low as 50 per cent. With the benefit of early diagnosis, survival rates can increase to up to 90 per cent."