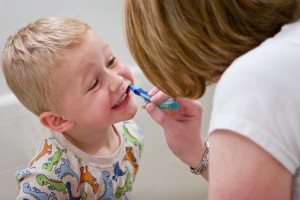 The summer holidays are coming to an end and children across the country are heading back to the classroom this week.
Amongst all of the other aspects you have to consider when you're rushing around on a school morning, tooth brushing can often be forgotten. However, this is the perfect time to get your children in a brilliant morning routine and ensure their teeth and gums are well looked after.
Here are a few simple tips to make sure their oral hygiene is high on the list of priorities before the school days start:
-Allow your children to choose their own toothbrush and give them a sense of responsibility when it comes to toothbrushing.
-If you have young children who still need your help when brushing, try standing behind them and cradling their chin to reach the back and top teeth easier.
-If your child is under seven, we would recommend supervising their teeth brushing until they feel more confident.
-Introduce your child to the dentist early- if it starts as a relaxing experience, it should help any future fears.
-Encourage your child lots when brushing teeth to ensure future good habits.
-Continue the great oral care regime throughout the school day by packing a lunch full of healthy foods. Avoid fizzy or flavoured drinks and foods high in sugars.