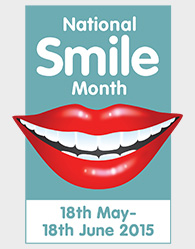 The British Dental Health Foundation has announced the return of National Smile Month for 2015. The UK's largest oral health campaign takes place between 18th May – 18th June, and aims to improve standards of oral health and emphasise the importance of basic oral hygiene.
This National Smile Month is the perfect time to make some real changes to your oral health.
Make sure you follow the three key messages to make a real difference to your mouth:
1. Brush your teeth twice a day, for two minutes at a time with fluoride toothpaste.
2. Cut down on the amount of sugary foods and drinks you're consuming.
3. Visit your dentist regularly and always make a check-up if you're having any oral health problems.