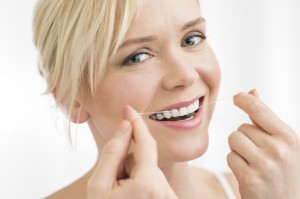 A new survey has revealed that a large percentage of Britons are lying to their dentists, especially when it comes to flossing, with 1 in 3 admitting they have never flossed!
A huge 27% of people lie to their dentist on a regular basis, saying that they floss every day, when in reality it is far less frequent. It was also found that 14% of those asked would rather clean their toilet rather than floss!
It's really important to get into the routine of cleaning between teeth each day – whether by dental floss or interdental brushes.
Dr Nigel Carter OBE from the British Dental Health Foundation said:
"A lot of us might well have dental floss in our bathroom cabinets and only dust it off before a date or trip to the dentist. We have simply not been taught the importance of cleaning between our teeth regularly.
Cleaning between our teeth is a critical part of good oral hygiene as it helps to prevent gum disease by helping to remove plaque from these areas."
It's important to remember that brushing alone only cleans three of the five surfaces of your teeth, so get that dental floss out!