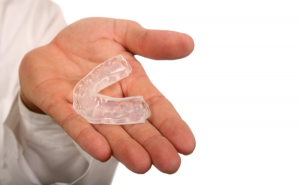 The British Dental Health Foundation has taken a look at the damage not wearing mouthguard is causing to our children's oral health.
Failing to wear a mouthguard for heavy contact sports like rugby, can cause cracked or knocked out teeth – which could cause severe pain and signal extensive future treatment.
Chief Executive of the British Dental Health Foundation, Dr Nigel Carter OBE, urges mouthguard not to be optional for children playing contact sports:
"Mouthguards [..] should be one of the first things in the kit bag. Rugby by its very nature is very physical and accidents happen, sporting injuries are a leading cause of adults losing teeth. Wearing a mouthguard is a simple and cheap way of ensuring kids safety."
"We all take our teeth for granted. Often, it is only when we are faced with the reality of losing one, or several, that we realise just how important they are."
Custom-made mouthguards are not too expensive to buy and not only protect the teeth, but can provide support for the jaw, neck and the brain, having an effect against concussion.
Make sure your child is properly protected if they are playing contact sport and help safeguard their oral health!