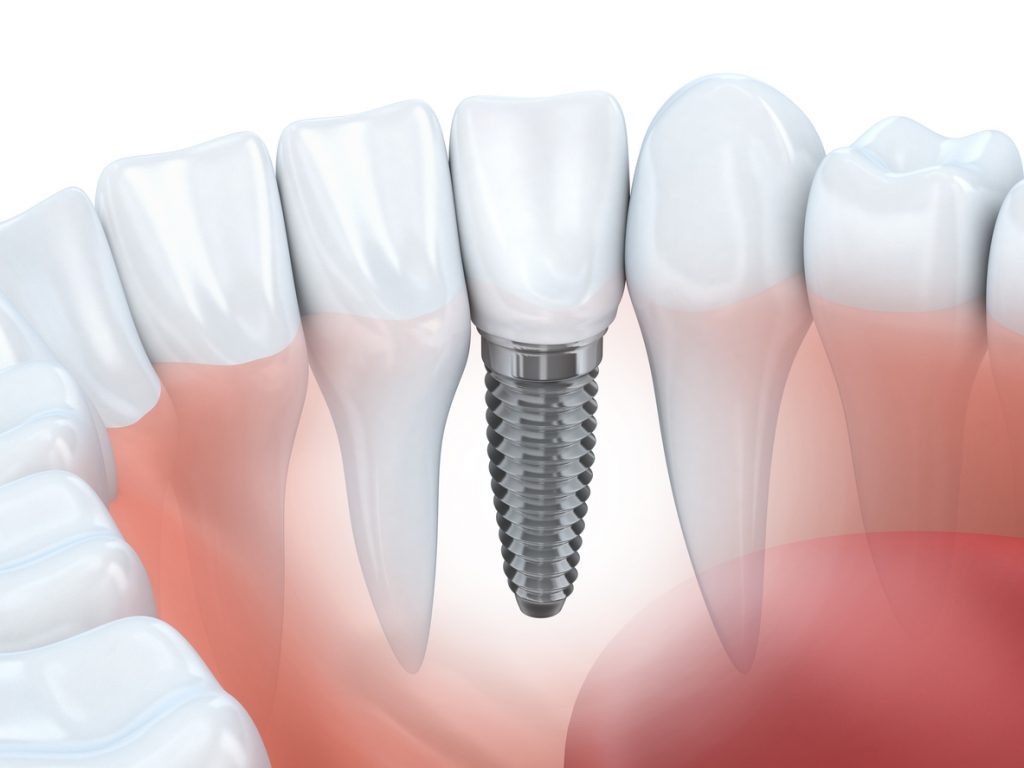 If you're thinking about dental implants to replace a missing tooth or teeth, the chances are that you may have some questions: Are they suitable for me? How much do dental implants cost? Will they look natural?
To help answer these questions, we've put together a list of what we think are the benefits of dental implants:
Dental implants look like a natural tooth
A dental implant is an artificial substitute/replacement for the root portion of your natural tooth, and once fitted, the result looks completely natural. The prosthetic tooth sits flush to the gum line, so no-one will be able to tell which of your teeth are real, and which are the implants.
Dental implants behave like a normal tooth 
Due to the dental implant being anchored firmly into place in your jaw bone, much like a natural root, it gives the false tooth stability. So there is no need to worry about your tooth becoming loose when eating certain foods as can be the case with dentures. Find out more about how a dental implant is placed.
Dental implants are long-lasting 
While dental implants may need periodic adjustments, they can last a lifetime when placed properly and cared for over time. We've been placing dental implants for over 12 years now, find out more about us.
Dental implants prevent bone loss
When you lose a tooth you can lose bone mass around the missing tooth site as it is no longer being used to support a tooth. This can lead to the jawbone losing it's strength and firmness. A dental implant will preserve and stimulate the natural bone, which will help to stimulate bone growth and prevent bone loss.
However, if you don't have enough bone, or the quality is poor you can still be a candidate for dental implants. At Gentle Dental Care we will use a diagnostic x-ray and 3D scan to determine if a bone graft is required. We are able to offer Onlay grafting or placement of synthetic material and tissue regeneration procedures to enable treatment with dental implants. Find out more about bone grafting.
Dental implants support your facial structure
A face without teeth can have a very ageing affect as the face will sag and loose volume. Dental implants allow you to maintain the natural shape of your face and smile and will help  keep your jaw bones strong.
Dental implants are easy to care for
Dental implants are easy to care for as they require the exact same care as a natural tooth, i.e. brushing and flossing at least twice a day and regular dental check-ups. So it's worth remembering that just like natural teeth, dental implants can attract plague and tartar, gum disease and infections if you don't look after them like your natural teeth.
Dental implants protect your healthy teeth
Dental implants go into the jawbone where your missing tooth root was, without damaging any existing healthy teeth, and they can also help prevent any adjacent, healthy teeth from moving.
Dental implants are cost effective
If you compare the life-time costs of dental implants to the costs of other restorations that may need to be replaced on a regular basis, then they are surprisingly cost effective. At Gentle Dental Care, we offer dental implants from £1,295 and have 0% finance options available (subject to status). This means that we are able to provide dental implants at a price which previously was only available in European countries.
If you would like to know more about dental implants at Gentle Dental Care, simply fill out the form below and one of the team will be in touch.