A Dental implant is an artificial substitute/replacement for the root portion of your natural tooth. It is a titanium screw, a material that is tolerated by bone and integrates well with bone tissue; that is placed into a pre-drilled socket in the maxilla (upper jaw) or the mandible (lower jaw).
During the placement of the dental implant, the aim is to achieve very close contact with the outer surface of the implant and the surrounding bone tissue so they can 'fuse' together. This is known as 'osseointergration', which creates a stable support for the new tooth/teeth.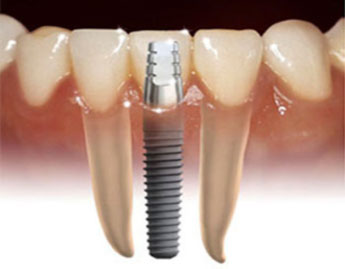 This is a single titanium implant, with an abutment screwed into the implant and a crown placed over this.