If you are having problems with damaged, unsightly, loose teeth or suffer with ill-fitting dentures or simply can't tolerate wearing them, then all-on-4 dental implants (otherwise known as all on four dental implants or full mouth dental implants) can provide you with a full arch of teeth with just 4 implants being placed into each jaw.
What are all on 4 dental implants?
All on 4 dental implants is a treatment available to clients here in Liverpool and the UK that allows a whole new set of teeth to be replaced through the placement of four implants. This revolutionary treatment works by fixing the implants to the maxilla (upper jaw) or the mandible (lower jaw), then once the implants have healed and osseointergrated, Hybrid Acrylic Bridgework is screwed into the implants as a 'fixed' replacement to a full arch of teeth.
This is a relatively new procedure, which replaces the idea that to support a full arch of teeth requires six or more implants per arch. The concept behind all-on-four is that the posteriorly placed implants are placed at a 45° angle instead of a vertical angle, and this increases their strength and ability to support a fixed acrylic bridge. Therefore less implants are required to support a full arch of teeth.
All on four implants as shown below: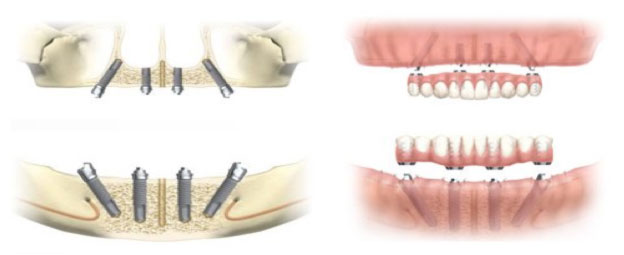 If you would like to know more about this procedure, including how much all on four dental implants cost, then fill out our contact form and one of our friendly team will be in touch with you.