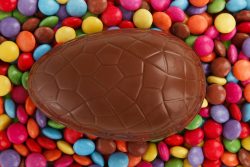 Easter is of course a joyous time, but it is also one that conjures up feelings of worry for dentists! Why?
To put it simply: chocolate.
Chocolate Easter eggs, chocolate bunnies, chocolate nests… the list goes on! Whilst choosing a chocolatey treat for someone at Easter might seem like a harmless thing to do, the sheer amount of sugar that we consume during this period is not good for our oral health. Sugar is the main cause of tooth decay in children, which can mean the need for fillings and other preventable dental treatment.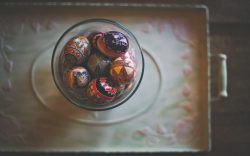 Why do we eat chocolate eggs at Easter?
Historically, eating eggs was forbidden by the Church during the Holy Week leading up to Easter. This meant that any eggs laid during that week were saved and decorated, and given to children as presents. Then, during the Victorian era, the tradition was adapted and satin-covered cardboard eggs were filled with Easter treats. As it became more readily available, chocolate started replacing the cardboard, and so began the new tradition that we're familiar with today.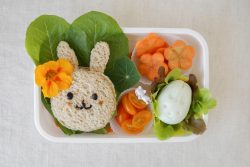 Reinvent the tradition
Whilst having the occasional treat at Easter will do no harm, it's the typical levels of chocolate consumption that is cause for concern. In 2017, a UK survey of 2,000 parents revealed that on average, children scoffed 17,000 calories worth of chocolate over the Easter weekend, and ten times the recommended sugar intake! With this in mind, we've come up with some tips to help you minimise the sugar levels…
Choose chocolate alternatives – if you haven't bought your Easter eggs already, then avoid chocolate and get creative with healthier treats! You could also choose to buy soft toys, or even Easter-themed beauty sets that are extremely popular at the moment.
Dark chocolate instead of milk – if you don't want to ditch chocolate altogether, opting for dark chocolate with a high cocoa content can be a better choice for your teeth. Montezuma's Absolute Black Vegan Chocolate Easter Egg (which is made from 100% cocoa) contains less than 0.5g of sugar per 100g, something worth bearing in mind!
Regulate your's or your child's chocolate consumption – there might be no way of preventing chocolate being given to you or your child, but that doesn't mean you have to eat it all at once. Instead of eating a whole egg in one go, eat half and have the other half the next day. Doing the same for your child will protect their teeth, and help avoid the sugar rush too!
Here to help
We hope that this blog post has helped you understand the effects of chocolate on teeth at Easter, and given you some food for thought!
Here at GDC Liverpool, we offer specialist children's care, general dental check ups as well as preventative care and oral hygiene advice. Find out more here, and use our contact form to arrange an appointment today.