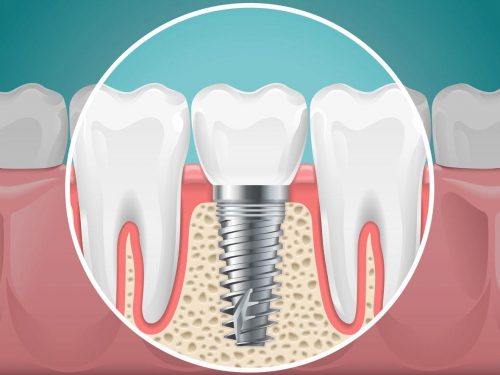 As one of Liverpool's leading dental implant specialists, we talk about the treatment a lot here at Gentle Dental Care! We're going to provide a brief overview of the implant procedure and let you know what to expect. For more in-depth information, check out our complete dental implant guide.
What is a dental implant, and what does the procedure involve?
A dental implant is a titanium screw that can replace the root of a tooth when it fails. It is placed into the jawbone and integrates with the bone tissue. This is known as osseointegration and provides stable support for the new tooth. After the fusion, a connecting structure called an abutment is then fixed in place, followed by the replacement 'tooth' (the crown).
How will I know if I'm eligible for the treatment?
Here at GDC Liverpool, we offer a free, no-obligation consultation to find out if you're suitable. During the assessment, we will take x-rays and 3D scans to evaluate the quality of the bone, and assess your overall oral health. This will involve looking at your gums and any existing teeth.
How much do dental implants cost?
Our dental implants start at £1295 per tooth (including the implant, the abutment and the crown), with finance options and payment plans available (subject to status, terms and conditions apply). If you're looking to replace a full arch of teeth, you might want to consider our All-On-4 dental implant treatment. This involves fitting just four implants in order to obtain a full set of upper or lower teeth and can be a cost-effective option.
How long does a dental implant take to get fitted?
Treatment times can vary greatly. Patience is key, as some fusions take longer than others. It can take anywhere between six weeks and six months for the bone tissue and implant to osseointegrate, but at GDC Liverpool we find that the average healing time is approximately eight weeks. Once the fusion is complete, an impression of the implant can be taken, and your crown will be fitted roughly seven days later.
Can I have teeth in the meantime?
Yes! For an extra cost, you can get a temporary crown while you're waiting for your dental implant to fuse. This is something that can be discussed during your initial consultation.
How long do dental implants last?
Dental implants have the potential to last a lifetime! With proper care, they can last as long as normal teeth. The artificial tooth might have to be replaced after 10-15 years, but again, it could last much longer if it's well cared for. They are the ultimate long-term dental solution.
Book your free consultation today
With over 20 years of experience, we believe that we're one of the best dentists in Liverpool for dental implants.
If you feel as if dental implant treatment could be for you, then please do get in touch! You can call us on 0151 722 3000, email us on [email protected], or alternatively get in touch using our easy contact form.